The two older Goombas went around the neighborhood with me collecting candy while the smallest Goomba stayed with Daddy handing out candy to those who came to our door. Last year Daddy got to make the rounds so this year we figured it was my turn. We went with some neighbors who go to our church and had a great time!
Little Mister dressed as a fireman. I looked for a red hat to complete his costume but the salesclerk at the Dollar Store said a Preschool teacher had come into the store just before me and bought fifteen of them: their entire stock. I figured it was just as well as Mister likely would not have worn it anyway.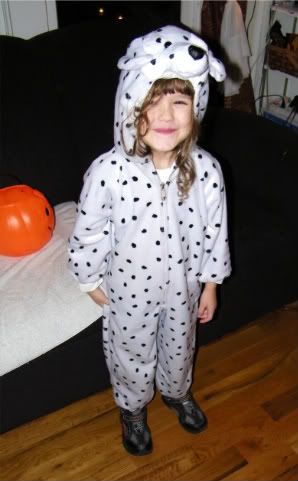 Curly Miss dressed as the fire dog. I scored a brand new costume at the thrift store for $1.49. It had some red paint on it that came out in the wash and the costume looked like new. My frugal heart warmed to the idea of getting a $25 costume for such a steal!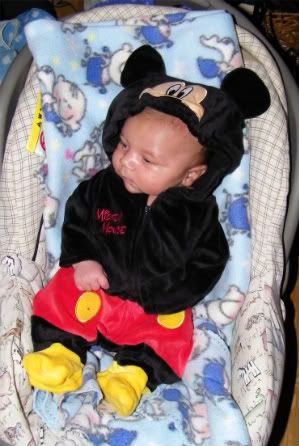 Baby Bear transformed into the smallest Mickey Mouse I have ever seen. He got oohs and aahs from all the trick-or-treaters who came to our door and saw his cute costume. As for his thoughts, well, he spit up all over it three times. But I take that more as a sign of affection since he does it to me all the time.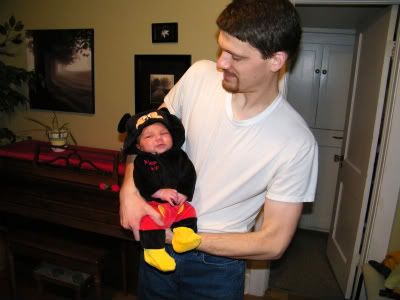 Hubby and I dressed up as a really tired Daddy and Mommy, respectively. All in all we had a lot of fun, although next year we'd like to figure out a way to all go around the neighborhood together.