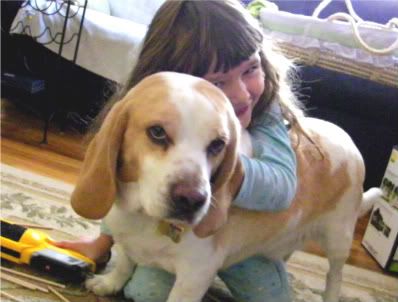 Fred lives a sort of Persona Non Grata life at our house. Curly adores him, but she is the only one at this point. Hubby has never been fond of dogs so it's not surprising he doesn't think much of this lug of a beagle. Mister was bowled over by Fred one too many times so he flees shrieking to the safety of the couch when he sees Fred coming.
I, usually the ardent dog-lover, am swamped up to my eyeballs with a new baby, two rambunctious kids, a house that gets dirty faster than I can blink, a part-time job (which I love but it's another thing), and very little sleep. So when our overweight, passive-aggressive canine scratches the paint off the back door or howls or spills his water across his old sleeping bag or refuses to go out or begs or scampers across the living room, throwing the rug, birdcage and Little Mister out of his way, I very quickly lose patience.
Don't get me wrong; overall, Fred is a nice dog, he's sweet, good with kids and stray cats and usually is quiet. But I have a hard time putting up with his shenanigans. In time I hope I make friends with him, but in the mean time I'll have to rely on Curly to be the dog whisperer in our family.