As the cold weather closes in around us, we begin hunting for creative things to get us out of the house but still keep our two cold-blooded family members toasty and snug. While we do a few outdoor activities, Hubby and Curly get miserable in short order if they get chilled, so we generally look for indoor recreation.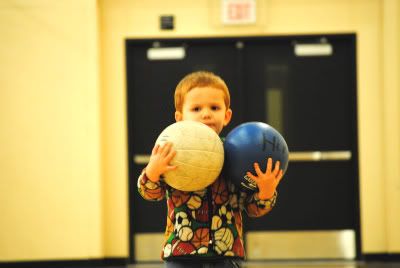 It seems that the kids, who have a never-ending supply of energy, can also use more exercise than we're getting so the other night we took our family out to the community recreation center.
While it is free for use, it's often full of college-aged guys playing basketball, something that never fails to stress me out due to the memories of getting hit in the face unexpectedly with flying basketballs numerous times as a kid. Still, we managed to spend an hour there playing ball with the kids before it was bedtime and we headed home.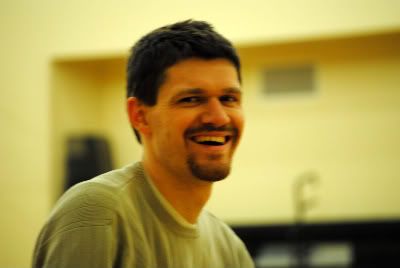 While Hubby and the kids chased balls, I sat guarding Baby Bear in his bucket seat and played with a new camera, one that I was trying out. The DSLR was a lot of fun, but a couple of features I really disliked meant that it's going to be returned and I'll look for a different model. Still, it was fun for the evening, playing with the zoom lens, taking shots of my family as they ran and played.