It had been my Dad's dream for years to make a beautiful wooden baby cradle as an heirloom for the babies in our family. He planned it to coincide with the birth of my younger sister and she would be the first to use the family cradle. Unfortunately she made her grand entrance five weeks early, before he had a chance to even begin work on the cradle. He and Grandpa started work on it right away and soon they had finished their handiwork.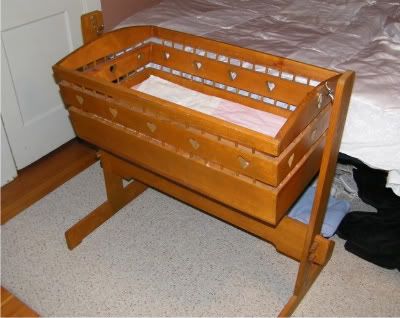 The cradle sits in my bedroom now, at the foot of my bed. Six babies have now slept in the family cradle, including my other two children. Last night for the first time I laid Baby Bear in it, thinking fondly of the beauty of family memories.
My bubble got burst immediately, though, when Baby Bear squalled and refused to sleep in the cradle at all. He hated the rocking motion and hated sleeping by himself. He was having none of it. So I picked him back up and snuggled him with me in bed again, where he immediately settled right down and fell asleep. Oh well, maybe his teddy bear can sleep in the cradle.