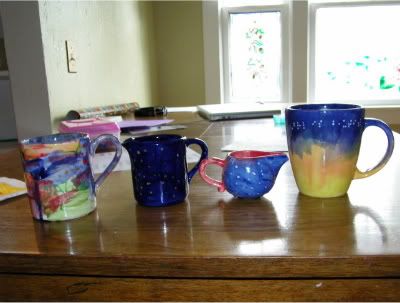 Several weeks ago, I reported a family outing to
paint mugs
at Wild at Art. A week later we picked up the finished mugs and have since each enjoyed using our unique creations. Although I'd promised pictures to several people, the excitement over the new baby drove it clean out of my head until today when I was going through some photos Curly had taken. Luckily for me, she had carefully documented our fine artistic endeavors and here they are:
Curly's mug is a riot of swirling color. The purple oblong shapes are "band-aids" and the bottom of the mug is stamped with a big star and her initials. If you look carefully, her name is written on the side.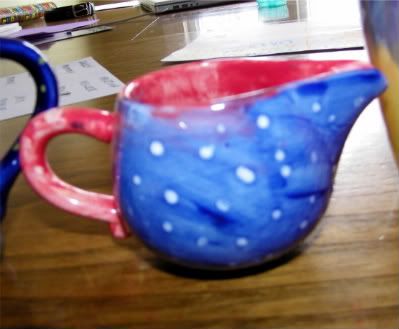 Instead of a mug, Mister chose a cream pitcher. He painted it accidentally in patriotic colors and seems quite pleased with the result. Even though it has a pour spout, he insists on drinking from it, with comical results when he tips it too far toward the pouring end.
Hubby also chose a cream pitcher, intending to use it to steam half-and-half for his home barista efforts. Instead, it usually gets used to mix baby formula right now. He chose a star field and the inside of the cup has a whimsical starburst on the bottom.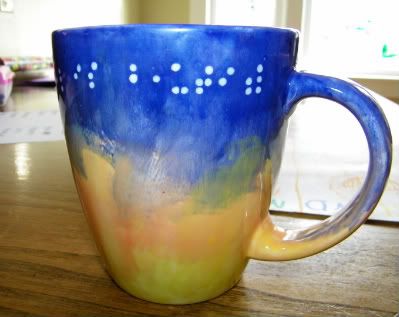 My cup was intended to look like a sunset with the dark sky creeping downwards. The color blending didn't turn out quite as smooth as I'd hoped, but the colors look nice. With stars beginning to appear in the night sky, I thought it would be fun if they spelled something in Braille, since patterns of dots like stars always look like they ought to spell something to me.
I think we're all quite pleased with our mugs, as they turned out to be not only useful but a fun reminder of a pleasant evening spent together as a family.