Being thrust into a situation with no established social rules makes me feel as though I walk teeteringly along a narrow balance beam and only time and practice will make me feel more comfortable walking forward into this unusual relationship called open adoption.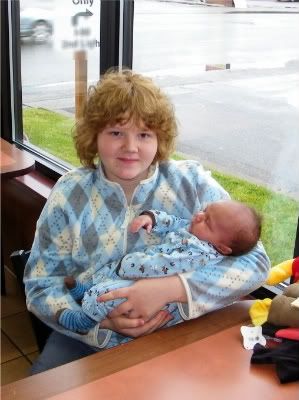 Today we had our first visit with Baby Bear's birth mom (Miss A) since placement. We met at a neutral location for about an hour. I was actually kind of nervous because we had to drive two hours to get there and I didn't know how all the kids would do and if the baby would be fussy. Also there was a last-minute change in plans (we were supposed to meet tomorrow) and I was worried that things would be weird.
When we got there, Miss A and her dad were there waiting (we were late, no surprise) and there were smiles all around. I got the baby out of his car seat and handed him right over, just like to aunties and all the people at church who want a turn. She commented on how he'd grown and how his color is darkening. He woke up and was hungry so I made a bottle and handed it to her. Our older kids played there on the playland and we had a really nice chat. Miss A told us how she is working on getting her GED (yay!) and about the new puppy she got. Her Dad has begun a
blog
to keep their extended family informed on Baby Bear and other happenings. We all enjoyed Baby Bear's cute expressions and commented on how strong he is and how beautiful.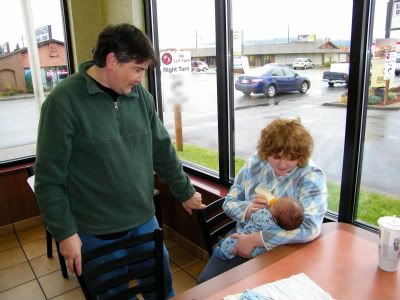 Near the end of the visit Baby Bear had a full diaper and Hubby took him to freshen him, so Miss A and her Dad left so she would not have to say goodbye to him and cry in front of us (her choice). Overall the whole visit seemed really positive and friendly. I loved it. She was totally respectful of us and we also were of her.
We came directly back home to give Little Mister his nap. I was so worried about the long drive but the kids did super. Miss A gave Baby Bear the Halloween costume she'd bought for him and a Pooh bear.
I know she misses him a lot and I grieve for her but she has said several times she feels like she has done the right thing. While I am sure we'll have our hiccups in establishing this unusual relationship, I think so far it is working out really well and I am so glad our baby will have even more people who love him from her family and that he'll know that Miss A loves him a lot. That means so much to me. It was also cool to ask her stuff like whether she sneezes five times or whether she can raise one eyebrow. I like being able to email her and send her pictures because she has said she really appreciates it.
During the conversation we both agreed this was an odd relationship to build; something that looks like family, yet not. We are joined by mutual love for a very special baby. After today, as I look into the foggy future I see a friendship built on respect, which ultimately makes it very comfortable indeed.