In spite of the fact that my children live landlocked in a sea of rolling wheat fields and have only once seen the ocean, Curly Miss has an ongoing love affair with scuba divers. I think this originated with the dramatic diver scene in
Finding Nemo
and had slowly blossomed in her mind until she is firmly convinced that she wants to learn to scuba dive when she gets older.
This morning the kids and I walked calmly through the Fall sunshine to the bank downtown in order to cash a check. Because their favorite toy store is right down the street from the bank, the kids begged to go there, play with trains and get a new Playmobil toy. I gave in, smiling as Little Mister grasped my pinky finger in his chubby fist in preparation for crossing the street.
"It's green, Mommy, can we go?" Curly sang out, nearly dancing with impatience. I felt a little like a border collie herding my goombas safely down the street and into the colored cacophony of the toy store.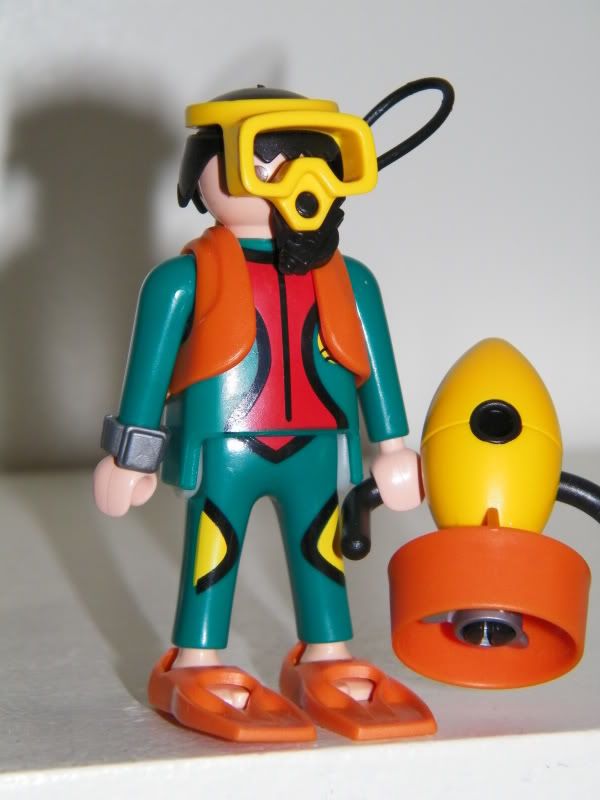 Once there they headed to the train table as if drawn by a magnet, but Curly soon tired of the trains and headed to the Playmobil aisle where she drooled over a 12" whale and a pyramid complete with a Sphinx. I followed behind her, raining on her parade with announcement that no, we could not get the $43.99 set. Unperturbed, she settled on a single figure, a scuba diver toy. Of course Mister needed one too and we ventured back out into the sunlight with cardboard boxes of treasures in our hands.
Treating ourselves to Greek Gyros at a nearby downtown shop, the kids spent their lunch hour opening and assembling all of the minuscule pieces of the divers' equipment. Happy chaos reigned as tiny pieces were lost under the table then retrieved. At last both divers were outfitted and as we walked home, Curly chattered happily about taking her diver into the bathtub where he would reenact the
Finding Nemo
drama in exhaustive detail.
I made them boats out of plastic tubs intended for jam and my two imaginative scuba divers postponed their nap/quiet time by taking a bath. Sometimes scuba diving takes priority over the more mundane parts of life like a nap and at age 2, the bathtub makes a quite acceptable ocean.