This week I sewed a Princess costume "from scratch", as in I made it up without the bother of using a pattern. Once I got it done, though, I felt a little disappointed. The Princess dresses nowadays have more beads and baubles and sequins on them than a wedding dress. Compared to them, this one looks a little plain.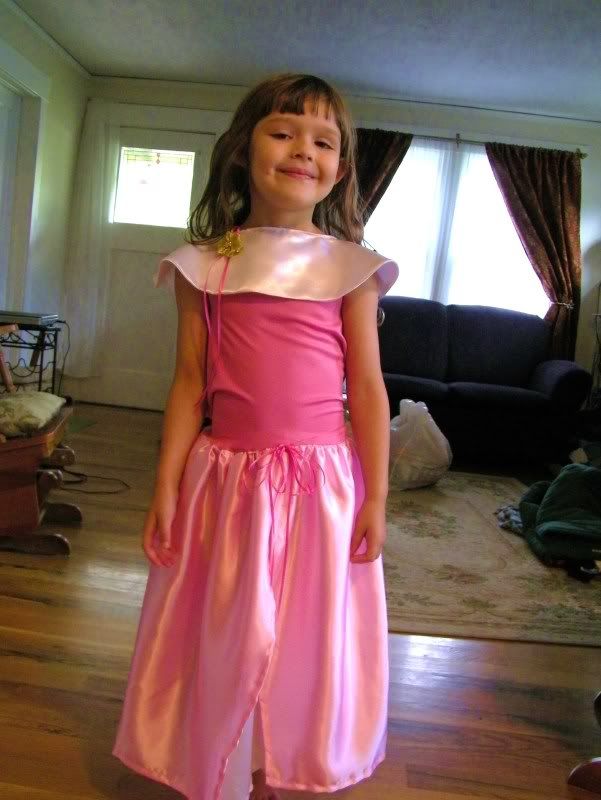 My daughter obligingly tried it on for me and let me take a picture but she was very clear she did not want to wear it. Ever. She wants a Lightning McQueen costume.
I made it for her friends to wear. You see we have these play dates where small friends come over to our house to play. These little girls, who are fast friends of Curly's from church dig through our toys then emerge disappointed to announce that there is no "Princess stuff." No, sweet ones, there isn't. We have cars and trains and trucks and balls and a toy kitchen and a couple of dolls that used to be mine, but we're sadly lacking in the Princess Gear category.
After this happened twice recently I began to be afraid that these friends would no longer want to come to our house to play if we didn't have any of the toys they liked. As much as I don't like to admit it, that's the way things are in these materialistic times. So I caved. Trotting off to the store where I bought a yard each of cheap costume fabric, I made a dress for about $4 rather than paying $20 for a pre-made one. Thus our costume box has Princess Gear.