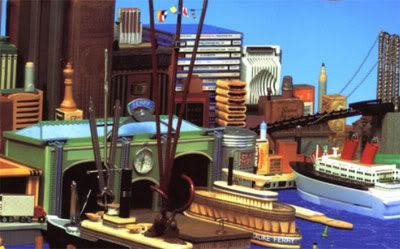 At the Library last night, Curly picked out several books of her own to check out. I gave them nothing more than a passing glance before I continued feeding my own print addiction.
When we got the books home, we found an unexpected treasure. The books she picked out have more than whimsical stories. They're full of everyday objects, cleverly arranged into scenes and landscapes.
The kids have been poring over the pages for hours, exclaiming each time they recognize a familiar object. The creativity and patience of the artist must be absolutely astounding, but as an out-of-the box person who used to make dollhouses out of matchboxes myself, I feel a sort of affinity toward her. She is a distant but kindred spirit.