I was a Freshman in college, scheduled to participate in a tour of the library with my introductory English class. As a group, we were standing haphazardly around in the lobby waiting for the rest of the group to appear and the tour to begin. Near the spot where I was standing stood a table display with a map of the library and on the lower edge of the table there ran a long row of Braille, presumably explaining the visual contents of the map to any blind students who happened upon it.
As I waited I idly ran my fingers over the row of dots, enjoying the texture. The tour guide, a library employee saw me and challenged humorously, "What does it say?"
I jerked to attention and running my finger slowly over the dots, I read:
For assistance in the Library, the circulation desk is located 30 feet behind you or the information desk is located 20 feet in front of you.
To my great delight, the tour guide's mouth dropped nearly to the floor. "In over fifteen years of working here, you're the first person who ever answered that question," she said when she finally regained her voice.
I laughed and agreed that it was unusual to be able to read it.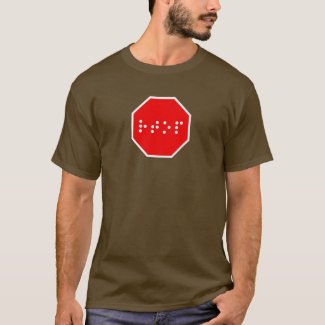 Even more humorous is catching all of the mistakes people inevitably make when using Braille. For instance the picture above is supposed to say "stop" using Braille letters. Unfortunately, someone mistook an "r" for an "s" so it actually says "rtop". I have seen drinking fountains that say "puse" instead of "push" and signs that direct people to the "emergencAND exit". I figure, well, they tried.