My favorite purse had been looking distinctly shabby for quite some time. Halfheartedly I looked for a replacement, although I knew I would never find one I liked as well as this one. It is just the right size and shape and doesn't have so many pockets that I lose things in it.
Finally, I decided to replace the worn-out spots with new fabric rather than try to make a new one or (worse) buy one. I took it to the fabric store to match the colors and the best I ended up getting was a small bundle of quilting fabrics in cute, vintage patterns.
Last week I ripped apart my old purse and put it back together using the new fabric I'd purchased. Happy with the result, I not only had a new purse but a stack of fabric quarters in coordinating colors.
If you know me, you know a stack of leftover fabric calls unendingly until I go do something with it. I've been wanting to try a log cabin block for quite some time, so this week I began measuring, cutting and sewing like a crazy person.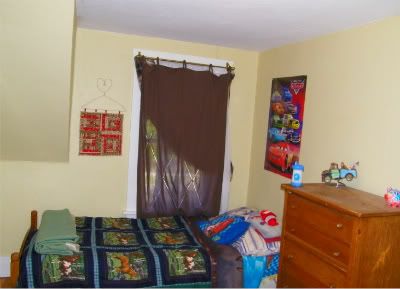 The result was a little vintage wall quilt that turned out
almost
square. Then I made a little hanger for it and presented it to my daughter to hang in her bedroom which thrilled her to no end. A fun little one-week project and good practice on log-cabin quilt blocks.