For my sister's Bridal shower, my mom found a woman in L-town who hosts Victorian tea parties.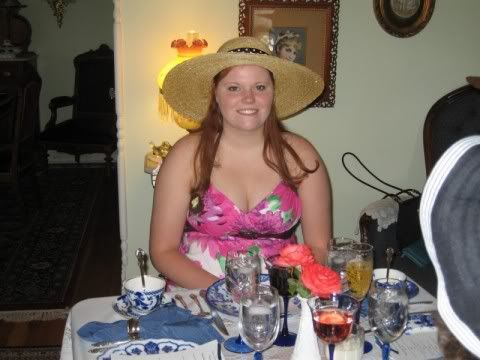 Of course I forgot my camera, but my aunt graciously shared a few of the pictures she took.
The house, decorated with antique tintypes, oriental rugs and lace curtains made the perfect setting for High Tea. We followed our instructions and wore silky dresses, summer hats and satin gloves. Curly Miss, who is to be the flower girl, attended in a little tulle embroidered dress with a pair of tiny gloves.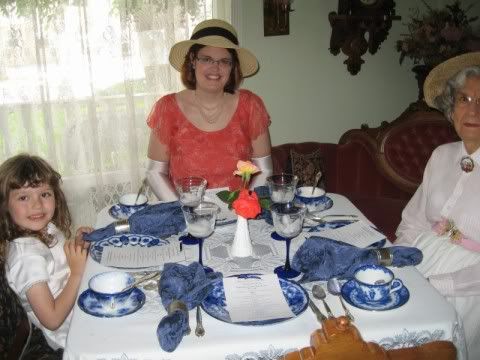 The tables, set with delicate blue china and silver flatware boasted real roses in bud vases and shining crystal goblets.
Here's our menu:
High Victorian Tea



Course 1:
Honey Bacon Wrapped Chestnuts, Stuffed Baked Mushrooms and Cucumber and Melon Slices.

Course 2:
French Onion Soup with cheese and French baguettes.

Course 3:
Spring greens and Avocado with homemade Remoulade

Course 4:
Fresh Fruit balls in Waffle bowl, Blueberry scones and Strawberry Cream scones with Clotted Cream and Lemon Curd.

Course 5:
Frozen, sugared grapes

Course 6:
Tea Rose Creme Brulee

The food, needless to say was all home-made, fresh and completely delicious. The Creme Brulee had real, edible sugared rose petals. We were served Earl Grey tea and Vanilla Creme tea throughout the morning. Curly especially loved the tea, accepting lumps of sugar and stirring cream into her cup with gravity befitting the solemn occasion.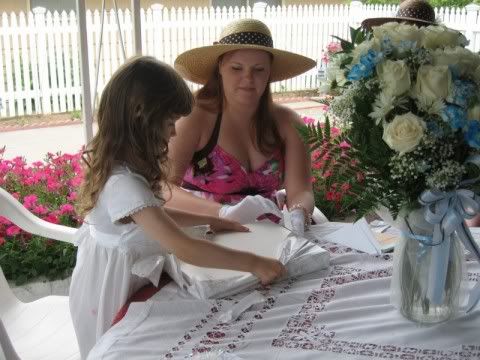 After dinner, we retired to the patio so Sis could open her bridal gifts. We also got to tour the hostess's lovely home, complete with claw-foot tub, tall toilet, antique civil-war era bedroom furniture and home made quilts.