As a treat for my husband, last night I concocted homemade chicken pot pie, even using my own original recipe! He proclaimed it "yumola" and helped himself to thirds, unusual for my picky spouse.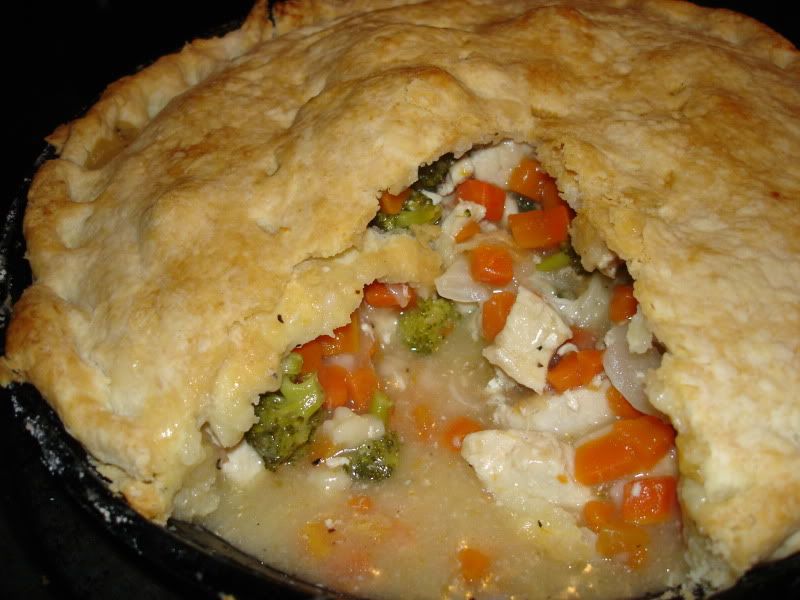 Erin's Homemade Chicken Pot Pie
Filling:
3 tbsp olive oil
2 boneless skinless chicken breasts
1/2 white onion, chopped
1 can diced carrots, drained
1 fresh broccoli head, florets only
1 can chicken broth
1/2 c. flour
1 tsp butter
1 tsp cornstarch
1/2 c. cold water
salt/pepper to taste
Heat olive oil in cast iron skillet until droplet of water sizzles. Brown diced chicken breast and onion. Add carrots, chicken broth and broccoli. Bring to a boil. Add butter and flour and boil for two minutes. Dissolve cornstarch in cold water and add to boiling broth. Add salt and pepper and boil until gravy thickens.
Crust:
2 1/4 c. flour
1/3 c. shortening
1 stick butter
2 tsp salt
1 tsp sugar
1 egg
water
Combine dry ingredients (flour, salt, sugar). Cut in shortening and softened butter. Add egg and enough water to create dough. Stir just enough to combine, but don't knead or over stir. Divide in half.
Roll out bottom crust and set in greased 10" glass pie pan. Add hot filling. Roll out top crust, set on pie and crimp edges. Set on cookie sheet and bake in 400 degree oven for 45 minutes. Remove when top crust is brown. Cool for 15 minutes before serving.