My whiskey barrel gardens worked so well last year that I was eager to use them again. They provided just a little fresh produce, not enough to need to try and give it away or preserve it, but enough to enjoy all summer. The potting soil didn't grow any weeds so my tired back was saved. Now that the weather is warm enough for things to grow, I took a tip to the store to buy seeds and starts yesterday.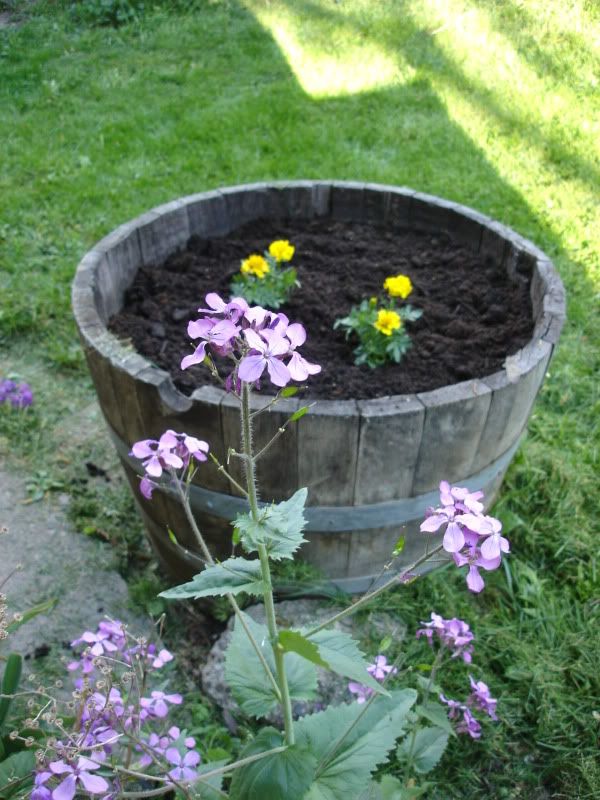 Alongside the lovely purple money-plants, my barrels now have seeds and marigolds in them. Last year's produce was nearly ruined by bugs, so this year each barrel got two marigolds in addition to the vegetables and herbs.
One barrel will have lettuce and chard again. Last year we loved picking just enough leafy stuff for a fresh salad every night with dinner. The other barrel holds three sorry-looking tomato starts and a pepper. I hope they perk up now that they have nice new homes. The rain all day today will do nothing but good too. With the cilantro from the third barrel, I hope to concoct my own fresh salsa this year. Last year I'd had the same ambition and though we harvested quantities of cilantro, the onions and tomatoes didn't produce much. This year I didn't bother with onions and put in more tomato plants. I plan to add a fourth of a different variety at some point.
No garden is complete without a little gnome taking care of things, of course!