Tomorrow marks the kittens' three week birthday. In general they live in their cardboard box, sleeping and drinking what Little Mister calls "Mommy Milk".
Yesterday, however, as I climbed the stairs to the upper floor to put Curly in bed for her quiet time, I heard a mewling coming loudly from our own bedroom next to where I kissed my daughter. Running down the stairs, I saw only two kittens in their box. Hubby had assured me that Cinnamon would probably tote them around the house at some point, telling me stories of life on the farm as a child, finding a kitten or two in his bed or in odd places throughout the house.
Frowning at the two remaining kittens, I headed back up their stairs, determined to relocate the missing two. After a quick search, I figured they were under our bed and I went to get a flashlight, noticing as I did so that Cinnamon had retrieved one of them and was now contentedly feeding three kittens.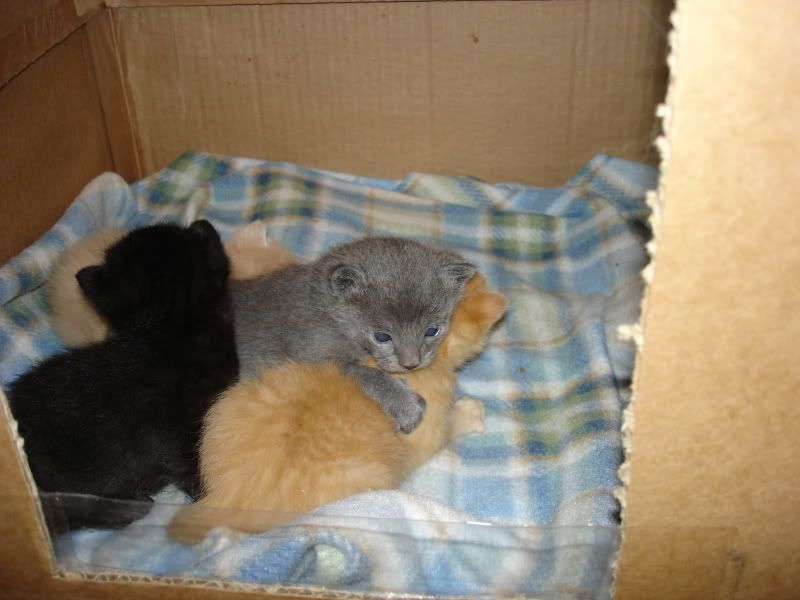 The gray kitten was still lost, so I took my flashlight and headed upstairs again. Without Mama Cat's help, though the baby was carefully silent and in spite of my efforts to commando-crawl under my bed, I did not find him.
Later I coaxed Cinnamon to come with me and we got the little guy to cry. I think Cinnamon probably was laughing at me as she watched me belly crawl under my bed again, this time lacking my light and feeling my way in the dark. Homing in on the baby's cries I found him inside one of the drawers that line the underside of our bed. Feeling from the back, I touched his furry little body inside the drawer but had to crawl out and extract him from the front side of the bed.
Relieved, I set him in the box with his siblings and sternly lectured Cinnamon on the evils of taking her babies upstairs and losing them inside of closed drawers. She crossed her eyes at me and turned her back, stepping haughtily back into her box.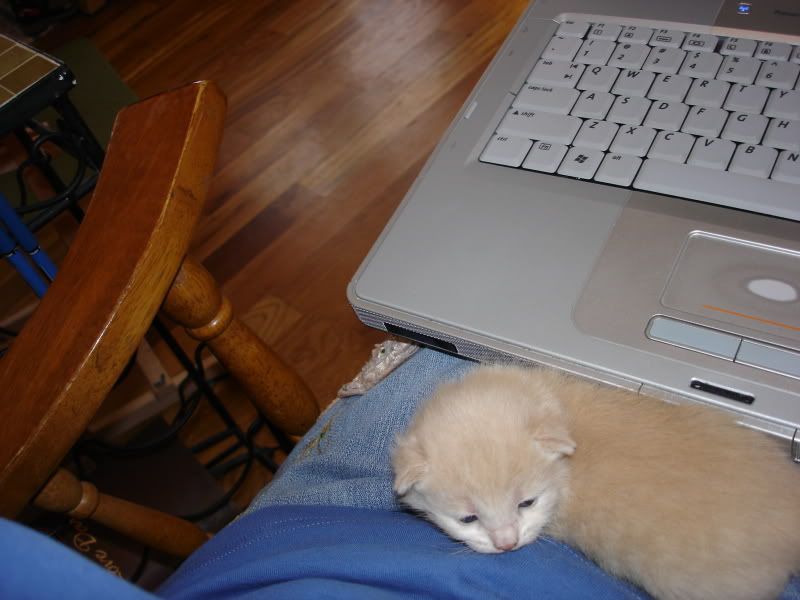 Later, when everything calmed back down, I held Nutmeg on my lap for a while and she explored my laptop curiously. Every day I try to hold each kitten for a few minutes to socialize them, although so far they haven't been playful but nervous. Soon they'll learn to tussle and play and escape their box. Then Cinnamon will have her work cut out for her!
Finding good homes for them has begun to weigh on my mind. I think we'll likely keep one, but I need to find homes for the other three. Homes where they will be cared for, kept healthy and loved their whole lives. It seems a daunting task. Between the criticism I have received (both in real life and online) for being so irresponsible to allow my cat to breed kittens into such an overpopulated world (heh!) and the responsibility I feel to find good homes for them, I hope this is the only time I ever have to deal with kittens. I plan to enjoy them thoroughly this time but never again.