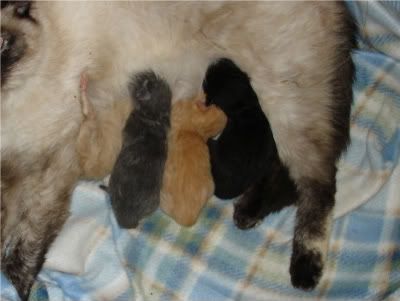 As someone commented to me, I'm sincerely glad I did not have quadruplets or have to give birth to four babies at the same time. Included in that is the gratitude I feel that I didn't have to breastfeed four hungry babies.
Cinnamon left her nest-box this morning for the first time after nursing all four babies carefully. Once they were asleep she went to grab a bite to eat. She also wanted to snuggle with me and get some pets. Even mamas need some love and pets!
The babies, sleeping in their box look like a tangled pile of fur. The kids each wanted to hold a day-old kitten so I carefully helped them to hold and pet the tiny things. They nuzzled and mewed at us so we gave them right back to their mama.