Somehow with our last couple of weeks being so busy, the laundry got away from us and we never really recovered. Most of it was clean but it was piled in appalling mountains all over the laundry room, partially sorted. I figured if I did not do something about it soon it was going to take over the entire house.
I knew I needed help. Although my health is much better than it was three years ago, I still don't have the energy to tackle 5+ loads of clean laundry. I decided that my kids, who seem to have enough energy to power the state of Idaho, were the perfect candidates to help. I just had to figure out how to get them to do it.
We dragged all of the baskets and piles out into the living room and made up a laundry sorting game. Curly Miss, who loves to help Mommy, was in her element, bossing her little brother around and importantly making decisions on how the laundry ought to be sorted. While I offered suggestions, they ran around the living room pulling out clothes and stacking them in baskets and piles. Of course they had to pull each article of clothing from the absolute bottom of the basket rather than taking the clothes conveniently located on the top of the pile. But they managed it in the end.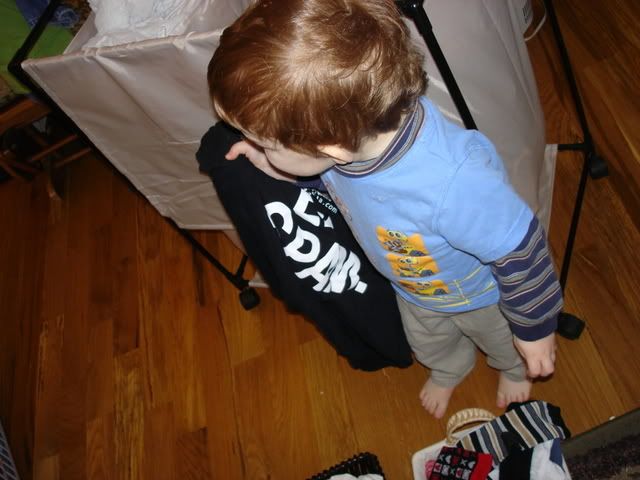 Then came the putting away. Curly knows where everything goes and she immediately began taking shirts, one at a time, up to our bedroom. After about five panting trips up and down the stairs, I took pity on her and gave her a canvas grocery bag. She then stuffed that full of clothes and hauled it upstairs, looking for all the world like one of Santa's Helpers.
Mister, meanwhile, climbed the stairs once then sat at the top and howled. It was nap time so I fixed his milk and let him lay on our bed among the piles of clean clothes to drink it before I put him in his little bed with his lullabies playing on the CD player. Curly bustled back and forth with the clothes, pleased that she was delaying her own nap.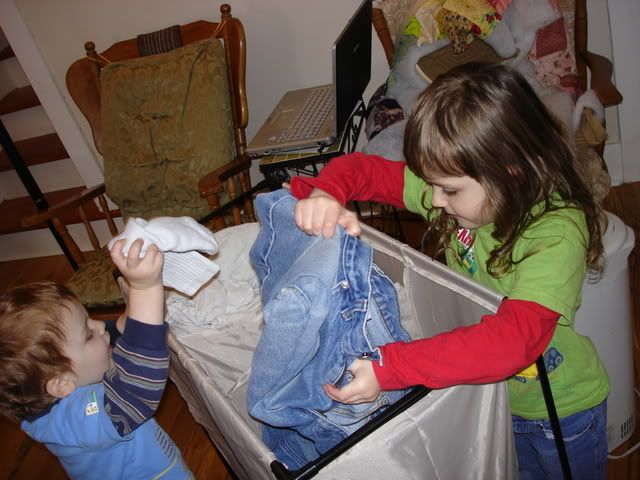 Almost before I knew it all of the clothing was put away. What remained were the towels, sheets and baby blankets that had been accumulating unnoticed for weeks. Curly helped me fold them and stow them in the bathroom cupboard. As if by magic, my laundry room was clean and bare again. I gave Curly a big hug and told her I didn't know what I would do without her. She beamed at me, her face like a ray of sunshine.