Earlier in the week I had expressed an interest in riding one of the horses and this morning when I emerged from the book I was reading early in the morning, my FIL (Father-In-Law) had saddled one of the horses for me. Delightedly I set off up onto the freezing flatlands on the back of the furry paint, Zack.
After a couple of miles I had enough of the wind and cold, so I returned to the house where my FIL was waiting to take the kids for a ride.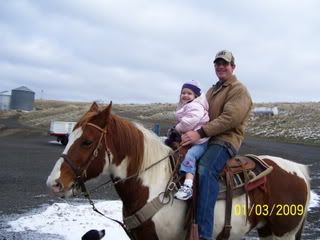 Curly got to go first, riding in front of Grandpa B. He took her on a loop out behind the shop then back where her teeth chattered but she was giggling and ready to go again as soon as it was her turn.
Little Mister was next. He, too got a ride on patient Zack. He mostly sat stoically while at my side Curly Miss, the expert, provided the running commentary.
For the grandparents, I even got a little video footage. Enjoy!