Since receiving them for his birthday, Little Mister's favorite thing to play with has been, without question, the Lincoln Logs. I try to rotate other toys in, and sometimes he will agree to use some Playmobil people, but mostly he just wants to build log houses. Then he wants to knock them down. Then he wants to build them again. If I try to put the Lincoln Logs away downstairs and bring other toys up, he invariably asks for them, calling them "Wah-a Wahs."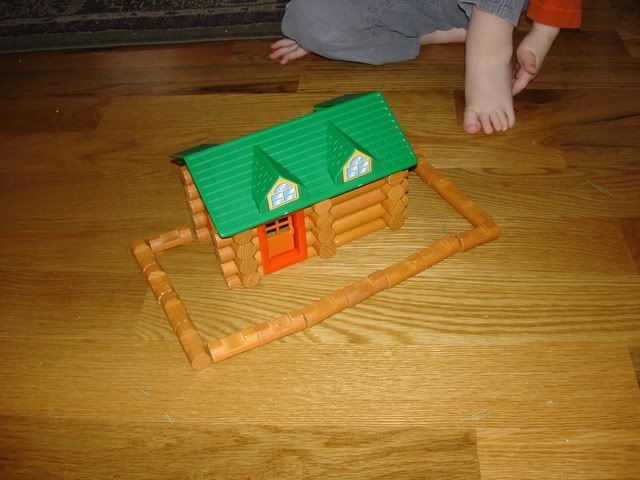 Although he has the alternating log thing figured out, he doesn't really have the idea that different lengths of log work best to build a house. Still, he is happiest with a nice, tidy square house so he follows me around whining, "Mommy, buil' hou'". So I sit with him and build him a house. He enjoys it for a while and usually builds a fence around it, then gets bored and tears it apart. Attempting to re-create it himself after I have drifted away to other activities, he usually constructs something that looks like it belongs in the world of Dr. Seuss with odd logs sticking out here and there and one wall that is ten logs tall, made out of singles.
A funny consequence of having Lincoln Logs scattered all over the house all the time is that the kitty discovered the terrific playing properties of the smallest logs. She sneaks up behind Little Mister and begins batting the little single logs across the floor. As soon as he discovers that she has stolen one of his precious Lincoln Logs, he absolutely comes unglued, screaming "No, Keee!!!" over and over, stamping his little feet and hissing at her. She runs away and hides under the dining room table while he collects his cherished toy and returns it to the pile. While he is back at his building work, she stealthily creeps out again from under the table and begins batting another small log across the floor at which point the performance is repeated. I don't know if she finds more pleasure in playing with the toy or in baiting Mister. Once in a while she succeeds in getting one away from him and I have found small Lincoln Logs tucked under the couch and in corners all over the house.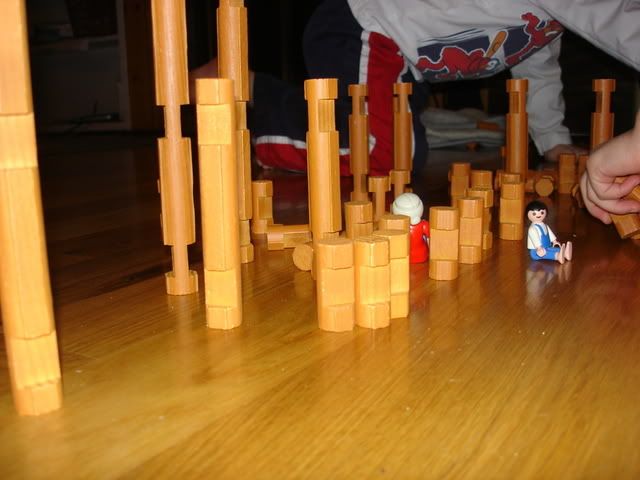 Sometimes he has so much fun with the Lincoln Logs, Curly Miss has to join him, adding her own flavor of creativity to the mix. Then we come up with Lincoln Log forests, which tend to get knocked over when Mommy walks through the room and inadvertently steps on them without noticing. The fact that they are a very close shade to the color of the hardwood floor doesn't help. I have to really be on guard or I don't see them and accidentally send a few flying on my way from the living room to the kitchen. Thankfully, my little builders forgive me and patiently reconstruct whatever they were making.