We're spending almost a week with Hubby's family on their farm in the middle of eastern Oregon. I have to admit for me that it's always a bit of culture shock, even though I am from a farm family. Since hubby is the eldest of five, the house is big, noisy and full of people and music and talking, all happening at once. Even with two of the kids gone now, the atmosphere is still one of overwhelming noise and I don't even think they're Italian. They are Danish, I believe, at least on my FIL's side.
Anyway, outside of the house is miles and more miles of desolate, bleak, windswept High Desert where my FIL farms wheat with the barest minimum of moisture possible with dryland farming. To do this he uses the best sustainable new methods in no-till seeding and he is quite successful at it.
Inside, the house retains its flavor of timelessness, a cozy farmhouse built before the turn of the previous century. The art is mostly my MIL's paintings and the decor is mostly high-quality musical instruments.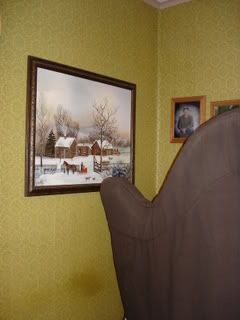 Like many farmers, my FIL is an active outdoorsman as well. For years I have heard stories of his hunting and trapping; the office decor attests to his taste and success.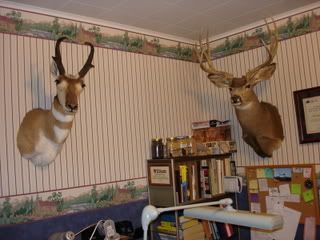 As you can imagine, living on a farm 20 miles from the nearest small town, the family has developed a wide repertoire of things to do at home. They play games with each other, practice their instruments, and work hard on the farm. I even volunteered to help install pegboard in one of the shops, but I fear my usefulness was short-lived as I had to go back to supervise naptime after only two panels were up. So much for helping.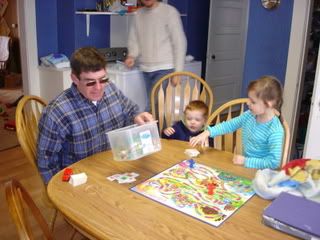 My FIL, Grandpa B, had a great time entertaining the kids. Candyland, one of Curly's favorites, is so well-used in their house that the box is covered with duct tape.
Grandma N, my MIL, preferred to cook us scrumptious dinners, serve huge helping of local news involving people I had never heard of, and read the kids books. This of course won their hearts instantly and they sat and listened to "If you Give a Mouse a Cookie".
We did get to go in and see GG and Grandpa GG, Hubby's grandparents. They adore the kids and even went to their church to borrow some toys from the church nursery so the kids could play. Unfortunately I didn't get any pictures there.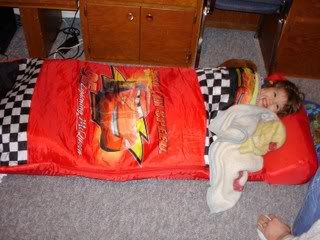 The highlight of the trip for Curly Miss was sleeping on her "matchress". She insisted that any auxiliary blankets be UNDER the sleeping bag cover so that Lightning McQueen would show.
Hubby's youngest sister was an absolute sweetie and let Curly sleep in her room, getting out her collection of dolls and toys and horses for Curly to enjoy with her. She even tried to do Curly's hair, with limited success as Curly's hair is impossible to style.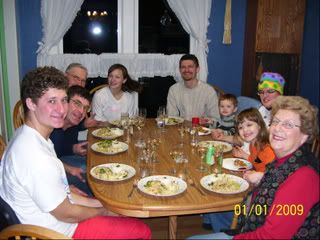 Hubby's Thai dinner was a smashing success last night and tomorrow is the loooong drive back home.