After a yummy lunch after a loooong church service and Christmas Pageant after a crazy morning after an almost sleepless night and record low temperatures, we went sledding!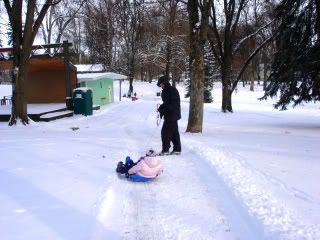 Daddy pulled the kids one block over to the park where there is a nice little sledding hill. Nothing too exciting but when you're four and two, it certainly suffices.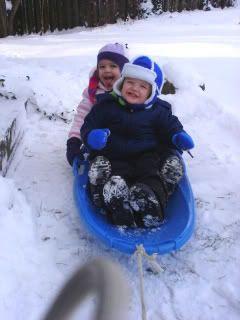 Bundled in snow pants, boots, sweaters, scarves, mittens, coats and hats, the kids both looked like the little brother in "A Christmas Story".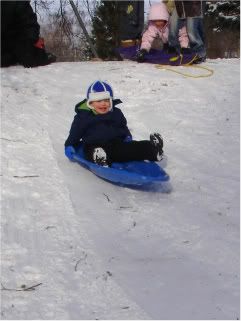 Little Mister took the hill by himself. At first he was fussing and saying "Eh, ur" over and over. I could not figure out if he was cold or stiff in his snow clothes or scared. I was about to take him home again when I finally figured out that "Eh, urrrrr" meant "[Mister's] turn". I plopped him on the sled, sent him down the hill and he was happy, giggling and laughing even when he fell off face first in the snow.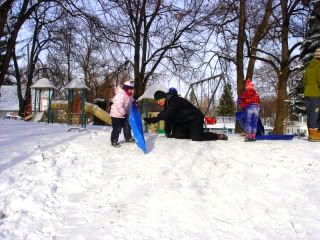 The hero of the afternoon was definitely Hubby who took trip after trip up and down the hill, packing the sled and sometimes the kids back to the top, getting them set up again and pushing them on their way.
I had a blast. Since I was Resident Overseer and Photographer, I only got on the sled a token one time and promptly tipped over. So much for adventure.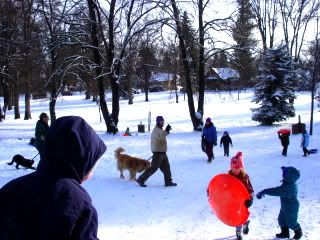 The hill was packed with local families sledding and chatting, with dogs barking and with the yells and shouts of kids who were all having a marvelous time.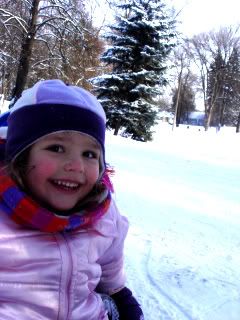 All too soon it was time to go home. But the smiles and red cheeks are a sure sign that we'll be back to the sledding hill again very soon!