The Hubby arrived home at 12:04 AM. We're so glad to have him back!
This morning Curly Miss had her 4-year checkup and shots. She is 43" tall and weighs 39 pounds. That puts her in the 95th percentile for height and 75th for weight. Such a string bean! She was so brave for her shots. She didn't even cry a bit. I was so proud of her and I think the nurse was surprised.
After her appointment we went to the store to get her a present, a yellow shirt for "yellow day" tomorrow and to retrieve the new chair I ordered. It's a glider-rocker to rock the baby. This time, finally, for our third baby I am going to have a good chair! For Curly, I had an ancient flowered rocker that Mom rocked me in, which would have been fine except it was made for people much shorter than me and the neck cushion hit me in the upper back forcing a weird posture. No good. For Little Mister I used the big blue La-Z-Boy which was so worn out from my dad using it that a bar across the lumbar region had almost no padding left. Finally for this kid I splurged and didn't go with a worn-out hand-me-down but got a nice new glider that reclines in three positions.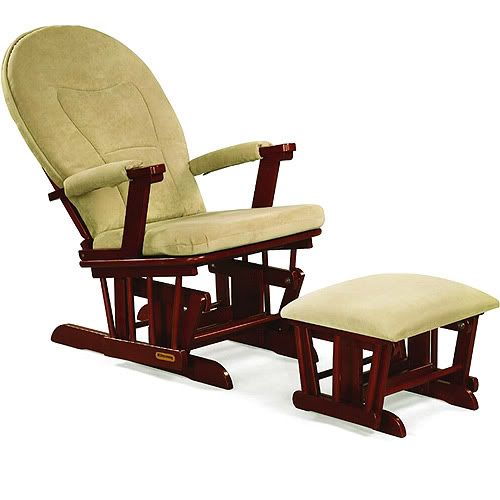 After sitting in it once, though, I think it is going to be Hubby's favorite chair. He's almost as picky about chairs as I am and this one is nice. It has a firm seat cushion and a very straight back which tips back in several positions and I can just see him loving it. That's fine with me since I still like best my special back-friendly chair that I made. It doesn't rock properly, though, so the baby gets the new one!