This morning I still felt pretty crummy so our compromise was that Daddy would get the kids ready and take Curly Miss to Preschool. Then he'd go in to work where things are piling up on his to-do list at an alarming rate. Little Mister and I would stay home where presumably I would rest on the couch and Mister would play toys.
This master plan worked fairly well except for this:
Yes, she actually wore this to Preschool.
Little Mister, being male, has much less colorful ensembles to choose from, therefore giving Hubby a shot at actual success. If you look closely, however, you'll see that the corduroy pants are on backwards.
But hey, who's to quibble about a little thing like that??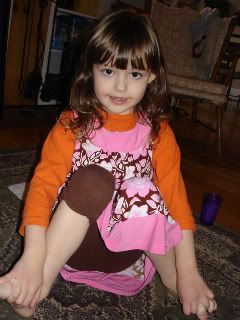 Daddy, you did good.