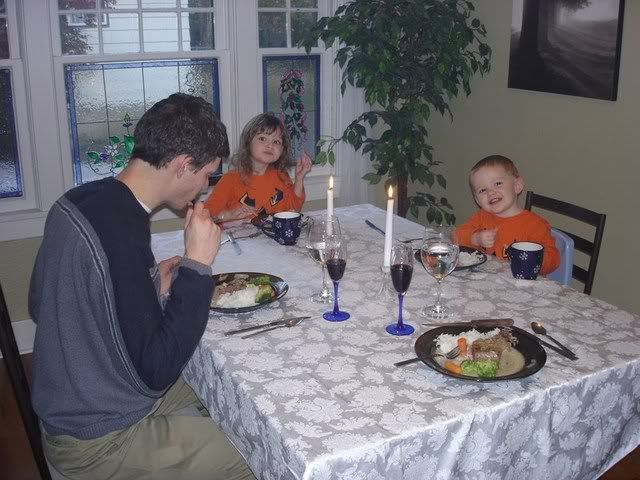 Tonight for no reason at all I fixed a fancy dinner for the family. The table has a white cloth, the places are set formally with shining cutlery and glassware. Tall white candles stand in the center.
I fixed a kale salad. The salad also had avocados, Gorgonzola cheese and an Asian sesame dressing. The next course consisted of a top sirloin, medium rare, with a garnish of caramelized sweet onions. There was Jasmine rice and fresh steamed broccoli and carrots. The adults had an Australian Shiraz and the kids got their water in fun mugs.
We had a delightful dinner together. The kids who got to use adult silverware and plates spent their time setting the cutlery in interesting shapes next to their plates. Other than that, they were on their best behavior, to my surprise and pleasure.
Hubby, surprised when he got home from work, enjoyed the delicious meal and even offered to do the dishes. After acting as chef and waitress, I was only too glad to let him do it.
Happy October 17th!