My friend A is learning to sew. Thankfully I am not called upon to teach her; that job falls to her mother-in-law. I'm sure she is an able student but I have taught sewing before and it is somewhat nerve-wracking. But she is excited to make her daughter, M, a Little House on the Prairie dress for Christmas. We decided it would be fun for me to make a matching one for Curly Miss.
So this morning was spent together at JoAnn's looking at calico fabrics, choosing eyelet and re-checking the list of buttons, lace, interfacing and bias tape. Our plan this fall is to work together at her MIL's house to construct the dresses. It should be interesting as I have never done a collaborative project before. I plan to take my own sewing machine, scissors and iron, of course. I expect we'll have quite a factory set up by the time we get going!
After much deliberation we finally settled on a dusty pink calico with a larger matching print for the bonnet. Some vintage eyelet for the apron and pantaloons rounded out the outfit. The hardest part for me is going to be waiting until we can go over there and start. I always want to begin a project the moment I get the fabric home from the store. The fact that the pattern belongs to her MIL is going to force me to wait and that's a very good thing!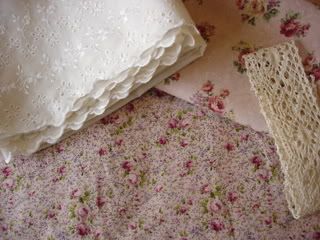 While I was in the fabric store choosing buttons and trying to keep an eye on my son who was busy mooching raisins from another baby, my phone rang. It was the repairman who told me my sewing machine is fixed and I could come pick it up. Immediately after leaving the fabric store I went to retrieve it and it is with joy I brought it home, cleaned, repaired and with a new bulb.
This fall should have some interesting stories of collaborative sewing with three preschoolers underfoot. And hopefully by Christmas I'll have pictures of two little matching prairie girls!