This fall, Curly Miss has shot up in height. The result of her growth spurt is that she is finally large enough to graduate to the next size of violin, a 1/10 size. I found a good deal on a slightly used model at
Shar Music
in Seattle. Since they had one in stock, I also got a much better quality violin than the one she was using, a Franz Hoffman Maestro, definitely better than the Suzuki Nagoya she had. Still it was a good starter instrument and we'll keep it for the younger siblings to use.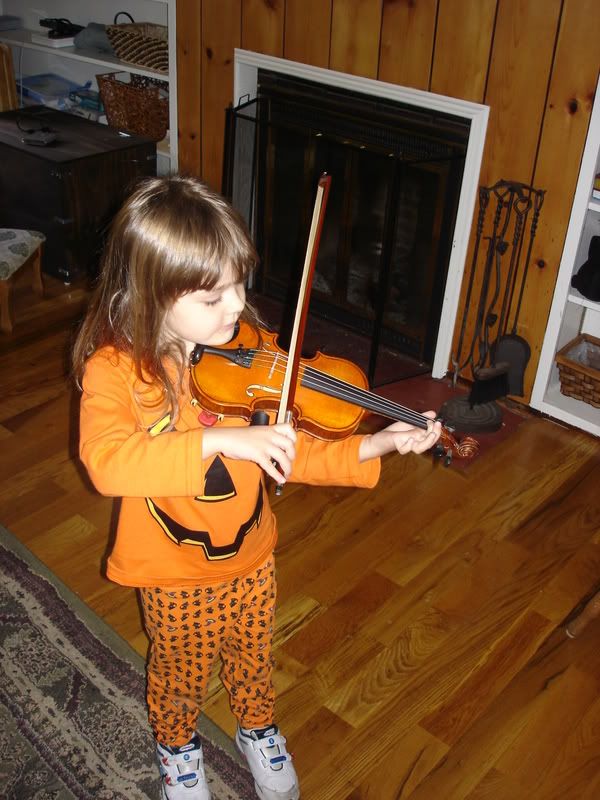 Today the new violin arrived and we had the ceremonial unveiling. This violin has a new cool Mini-Kun shoulder rest in her favorite color, red, a fancy case with backpack shoulder straps, and a brand-new bow! I had to rosin the bow three times before it would grab the string enough to play a note.
When it did, my little violinist's eyes lit up like stars. This instrument has a big, round sound on all four strings and the bridge is much better, meaning it is so much easier to isolate each string. She played through a couple of her songs with obvious enjoyment. On her little 1/16th violin, it was almost impossible to get a "non-scratchy" sound from the two lower strings. On this one, the sound is much better.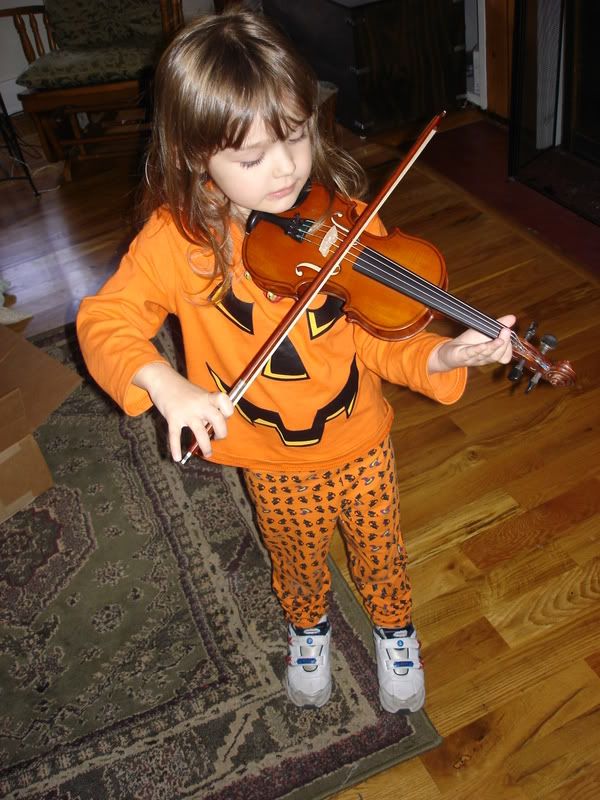 Having a new, good shoulder rest will result in less tension in her neck and shoulder and more comfort as she plays. She has a long neck for a little kid. Of course it is still a very small violin so the "big" sound that the full-sized instruments have won't be there but still it is a huge step up. She had a lot of fun trying it out for the first time today. I expect it will make a big difference in her practicing. Her teacher has been working with her on the forte "Papa Bear" sound, the mezzo-forte "Mama Bear" sound and the piano "Baby Bear" sound. Since the response is so much better on the new violin, it will be so much more motivating and rewarding to pursue a beautiful, rich tone in each of the dynamic ranges.