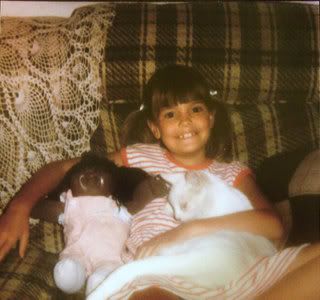 When I was little, Cabbage Patch Kids were all the rage. Every kid had to have one and even I, sheltered as I was from TV advertising, was no exception. The difference was that I had to have a black one. For some reason I thought the little black Cabbage Patch Kids were the cutest things and I begged for one. I have no idea how my mother managed to locate one in Northern Idaho but she did; thus entered Evonne into my life. She was promptly nicknamed Bon-Bon, a clever play-on-words, or so I thought at the time on my seventh or eighth birthday. Carefully, I filled out the adoption certificate and sent it in to the company, receiving in return a birth certificate signed by Xavier Roberts himself. She was officially mine.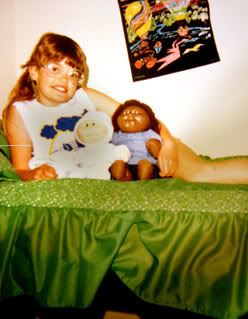 She was a fixture in my life well up until my sister was born. I dressed her each day, often in matching clothes with myself. She came with me to school, to church, pretty much everywhere. She had her own bed and her own little chair at the table. My mother, much to her 29-year-old dismay was dubbed "Dran-mamma" and was expected to behave as a grandmother should. I have a diary from the tender age of third grade that boasts this literary masterpiece: "I have a Cabbage Patch Kid. Her name is Evonne. She is Black. She is very cute." That's it right there; that says it all. Then, at age 11 I suddenly had a real-live baby doll to care for so Bon-Bon, along with baby Jay-Jay, became secondary to the living breathing flesh-and-blood baby who captured my heart as completely as any of my own children did.
Did I know that Bon-Bon was the playful rehearsal I would use to prepare my heart for adopting a black baby into my family, cuddling her right along with the white babies, two peas in a pod? I don't think so. The gift of foresight visits much more rarely than that. But perhaps the seed was planted in my heart clear back then, so many years ago. Maybe Someone knew even if I did not that little Bon-Bon was more than just my favorite doll.
I still have her. She lives at present in the kids' stuffed toy bin. They enjoy taking her out and removing her socks and shoes. Curly Miss asks me about her and I tell her storied of the days when I was a little girl, the days when I held and dressed and rocked a little Cabbage Patch Kid who was "the cutest one".