Little Mister is two years old today!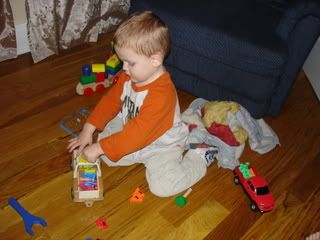 For milestones, he is about average. He doesn't talk much and doesn't try to dress himself or anything like that. He does eat well with a fork or spoon and is becoming quite adept at drinking from a cup. His strongest area still seems to be mechanical. He has good dexterity and can build really amazing block creations. He's also really adept socially, is very outgoing and friendly.
He has surprised us lately by correctly identifying several letters and colors. He may know more than I realize! He loves listening to music and already wants to imitate his sister's violin playing.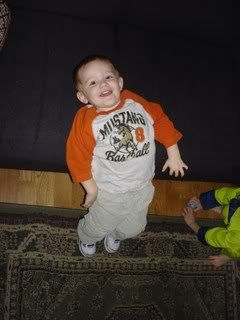 After my strong-willed firstborn, his personality is a treat. Even the two-year-old tantrums seem like gentle breezes after Curly's hurricanes. He's almost always happy and smiling, rarely does he get whiny and usually it's a communication problem rather than a stubborn rebelliousness. I don't like to compare one kid to another but I have to say the contrast in their "two-ness" is refreshing! He seldom goes looking for mischief either, although he does seem intelligently curious. He loves to be cuddled still, but it has to be his idea. If he's busy with something else, he'll push away. That's okay, it just means he's growing up.
Happy Birthday, little man! I love you :)