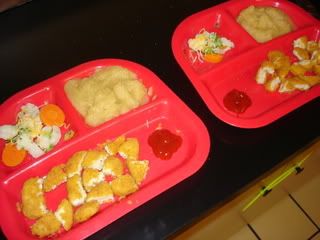 Today I fixed such a healthy lunch for my kids I decided to blog about it in commemoration and also for solace on those days when my poor children eat nothing but Oreos for their noon meal. No, I am kidding. Sort of.
Lately I've been trying to make healthy foods more "fun" so that said foods get eaten rather than stuffed into the hollow posts of their chairs. I use fun Red Trays, Curly's favorite color, and of course Lightning McQueen spoons and forks. In the effort to make lunch prep as easy and fast as possible, I microwaved frozen chicken nuggets and veggies, but then I sneakily improved the presentation with cheese sprinkled on the veggies and ketchup in which to dip nuggets. For fruit my kids love unsweetened applesauce so that got included as well.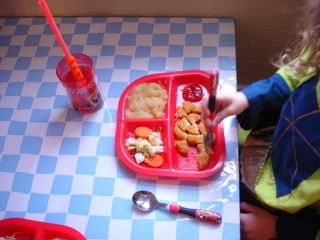 Although Curly only has water to drink, she has it in a Lightning McQueen cup with a pumpkin straw. It was so fun she drank three cupfuls!
Now that I have one healthy meal in our repertoire, I'd love to hear any other lunch ideas you might have. What does your family eat for lunch? Celery and tofu? Doritos? Help me out here or we might be back to Oreos tomorrow. No, I'm kidding. Sort of.