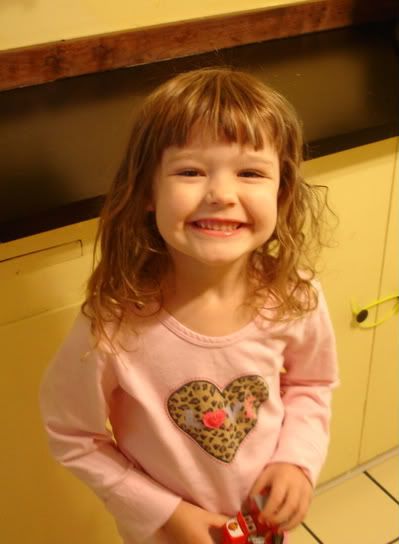 Yesterday, Curly and I walked hand-in-hand across the sloped parking lot at Emmanuel Lutheran Preschool. Back at home I had every intention of taking my camera for that obligatory First Day Of School picture. But I forgot it at home. Curly didn't care, she was in such a hurry to get into her classroom to see her new friends and her beloved Teacher M.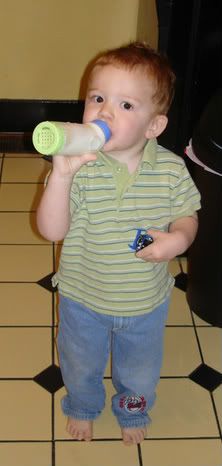 Carrying Little Mister who was still in his sleeper, which happened to be a blue and pink hand-me-down from Curly, I followed my eager daughter down the hall and into her classroom. She was so beside herself she could hardly decide which activity to do first and finally settled on a picture to color. She insisted on writing her own name on the paper, impressing her teacher.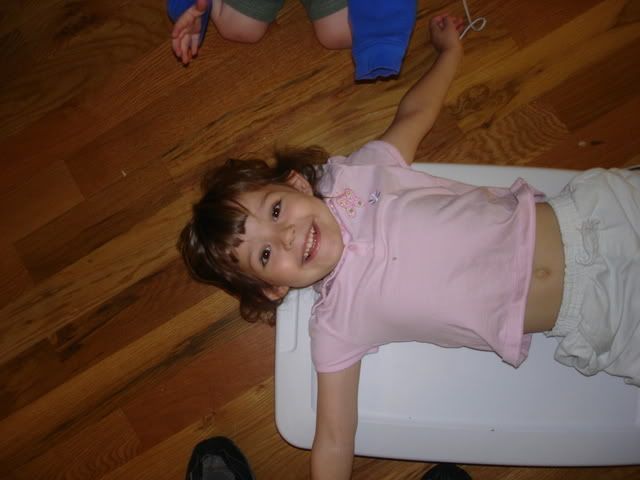 At the park last night I reflected on how glad I am that we made the decision to send her to Preschool. Two little kids were playing there and a third joined them, receiving a huge hug and happy shouts of "she goes to my school! I know her!". I think of the picture on my fridge of the face with pink and red hair that my daughter colored this morning. I think of her informing me that maybe P will be her new friend. Her joy in getting to do something special with her beloved teacher and all her friends makes me so happy.
Then, after a good long nap, she and her Daddy went to her first violin lesson. Our strategy this summer has been to let her take a long break, get refreshed, then start with the new teacher this fall. It seems to be working. We have talked up the new teacher and the new lessons. Instead of dragging her feet she asks to get out her violin and play her songs. Success!
We also decided that since Hubby is usually the one to practice with her, he ought to be the one to go to the lesson. For some reason this piece of logic escaped us last year. We set up the schedule so he can go right after work on Wednesdays and Mister can stay with me. He reported last night that he thinks the new teacher, Miss K, will work out well. She has a few differences such as teaching a thumb-in bow-hold. In itself, that is fine but I'm a little worried about the teachers in the group class trying to change it all the time and frustrating Curly with mixed signals. Maybe I'll email her group teacher with a heads-up. Or maybe I'll be quiet and see where things go. Curly is a year older and may be able to handle the disparity herself.
One piece of good news is that Curly is almost big enough to move up to the next size of violin. This is terrific news as each successive larger size has an infinitely better sound and she will be delighted to graduate from her "scratchy" 1/16 size into a better 1/10 or 1/8 size. I haven't told her yet. Maybe we can get the new one for her birthday. For Curly Missie, Fall is off to a great start. Little Mister at first enjoyed the time with me as we unpacked my hiking pack together and washed everything.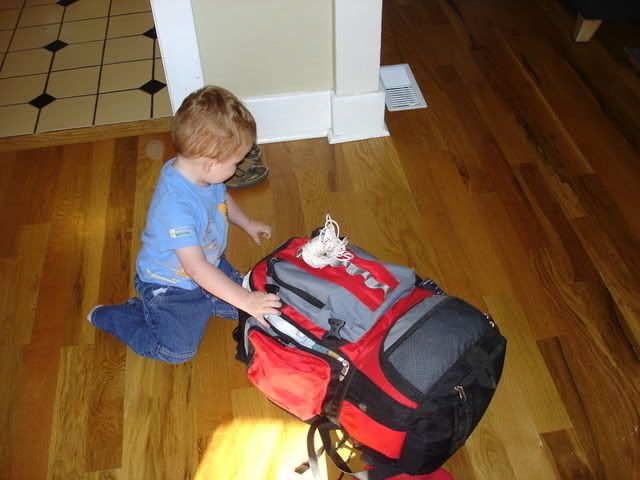 He carefully snapped all the straps for me then crowed over his accomplishment. But when I sat down at my computer to write, he decided he was lonesome and spent the rest of the morning bugging me. During violin lesson I decided to head this off and took him to the park. I think I am going to really enjoy the one-on-one time with him this year.