Upon the recommendation of Teacher M, Little Mister and I went to visit the Parent-Toddler Co-op, located in the fair grounds. Although Mister is perfectly happy playing at home while Curly Miss is at Preschool, I still wanted to do a special activity with him. He is getting old enough to notice that Curly Miss is constantly getting to do cool stuff: she goes to violin class with Mommy, violin lesson with Daddy and to Preschool three days a week. Little Mister, always the little brother, has to stay home.
With that in mind, then, Little Mister and I checked out the group at the Fairground. We found a good mix of one-, two- and three-year-olds and a nice schedule of playing, snack and a circle time reminiscent of the Library story hour. Little Mister, of course, had a blast, choosing to play with the toy kitchen, the dollhouse and later, the train table. We both loved the healthy snack of cheese squares, raisins and whole-wheat animal cookies.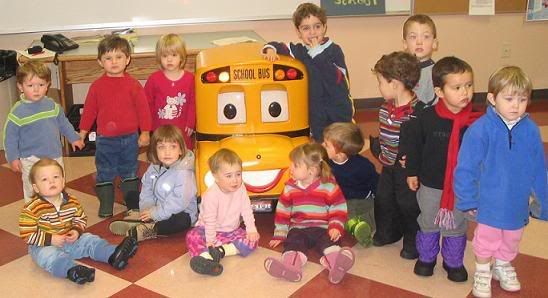 Last year's group
I think we'll probably go back, likely once a week. It doesn't cost much, just enough to maintain the toys, rent the fair building and buy a snack. As the weather gets worse I am sure we'll both appreciate a place to socialize and play!