Before the weather turns bad with ice coating the highways, I loaded up my progeny for the trip down the hill to see Grandma Doh. I've blogged about her before; she's my dad's mom, the one who has a green thumb, does crafts and sewing and whose house looks like it could grace the cover of Country Living. She loves little kids, particularly her grandchildren and great-grandchildren so going to her house is always a hit with the kids.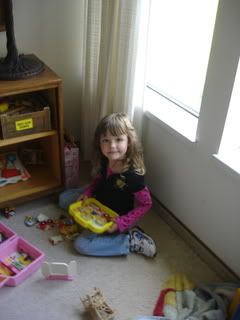 They immediately gravitated toward the cupboard where Grandma Doris keeps the toys. As usual, Curly got out the cars while Mister chose baby dolls and toy dishes.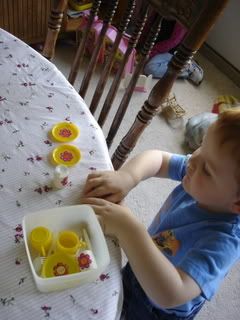 My job turned out to me much more technologically advanced and it was hard to do so I'm going to brag shamelessly because I think it actually turned out pretty good. I had my laptop and printer with me; it was my intention to print some recent photos of the kids for Grandma since I had not gotten my act together to do it ahead of time.
Grandma then showed me a picture of Grandpa Nave she had cropped. She loved the picture of him, one from a church directory a few years ago but she hadn't thought it was a good one of her. My dad had informed her that I could remove her rogue hand and shoulder in the picture with my computer, a feat that to my non-computer-literate grandmother was nothing short of magic. But she had nothing to lose so she gave me the picture and I set to work.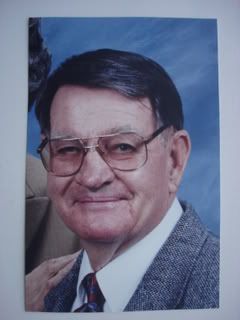 Meanwhile she entertained my children and fixed them lunch. I'd call it a good trade. One of the highlights of visiting Grandma Doh is a trip into the back yard to swing on her arbor swing, under the grape vines. Every one of her children, grandchildren and great-grandchildren have sat on the basket swing with Grandma Doris, swinging gently under the grape leaves. For lunch we ate the tiny, sweet, seedless grapes from her back yard.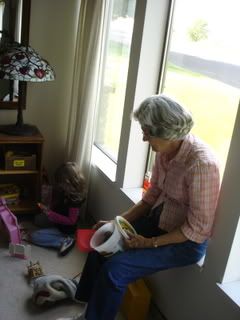 I used my digital camera to photograph the picture she wanted me to alter. Since I don't have a scanner, it seemed like a quick alternative. It probably didn't give me the best quality but it was better than I expected. I did a lot of color and light alteration and a lot of clone stamping. According to Reader's Digest, the correct term for altered pictures like this one is "fauxtography". Cute.
Here's what I finally came up with and printed, much to her delight. I'm glad I could produce a little photographic magic for Grandma in return for a morning of entertaining my children.