Going shopping with Little Mister after dropping Curly Miss off at Preschool can be dangerous! Today after walking up and down the mall, looking at every circular sign and proclaiming it the "moon", we got a Starbuck's and headed to JoAnn Fabrics. Not smart. Not at all. They had a sale on fleece.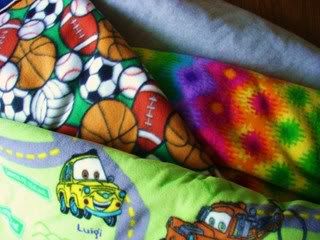 Honestly, I was just going to get ideas. I even called a friend who plans to sew a pioneer dress for her daughter. She came to look at fabric with me only she was a good girl and did not buy any. Yet. She is not infected as badly as I am. Yet.
Now I have hours of sewing ahead of me. I can't wait! :)
Oh, did you notice the designs on the fabrics? Can you tell which one goes with which family member?