Today has been a glorious Indian Summer day. My front yard is blooming with a profusion of dark red mums. I had to wait all year to find out what color they were but it has been worth the wait.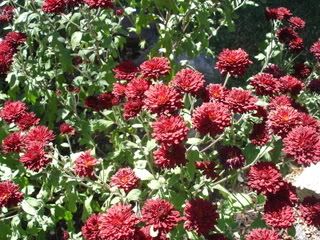 In the pot on the front steps, the red geranium unexpectedly burst into bloom once again. In the heat of the summer it wilted and shed most of its leaves so I thought it had given up the ghost. I half-heartedly gave it a little water and did not hope for much. I don't have a good track record with live plants. This one somehow forgave me!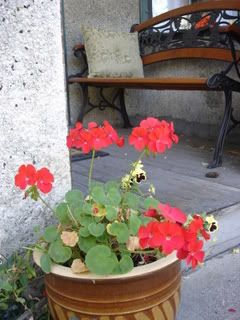 Knowing my dismal failure with live flowers in the past, I decided to go with the silks in the window boxes. I had used some left over in our garage for most of the summer but now that fall is here I wanted something new and bright. The dollar store has small bundles of silks and they were clearing out their fall collection. A lunch hour and $12 later, I had a bright new fall bunch to go in the boxes. I love having window boxes on my house! It's such a nice, cottage-y touch and the spots of color add so much to the front of the house.