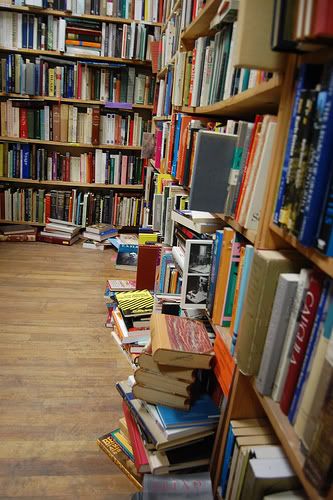 Wandering around the used bookstore in downtown Pullman is like getting lost in a Dr. Seuss picture. Things are stacked sky-high in uncertain piles. Shelves in every color of wood hold piles and piles of musty-smelling books. Scraps of signs point the way to organized sections, everything from the outdoors to cooking to world religions to mystery, romance and horror. I love it.
Today Hubby and I worked out a master plan whereby we could both browse in the bookstore to our heart's content and not be bothered and interrupted by children every two seconds. First it was my turn. He watched them in the children's room for a few minuted then they all went across the street to Daily Grind and played with the dominoes. Meanwhile I shopped through almost every section of the store, perusing titles of audio tapes, digging through stacks of unshelved mysteries. I ended up with four backpacking books, five paperback mysteries and one Madeleine L'Engle novel. Pleased with my haul, I headed over to rescue Hubby.
Since the clock had crawled toward noon, we decided to take a break and eat. The pizza place was staring us in the face, advertising $1 slices. We caved. After lots of Pepperoni and mozzarella cheese, we regrouped back at the bookstore. Now it was Hubby's turn. Happily he headed off to browse while I stuck the kids in the stroller and headed over to Reaney Park.
Surprisingly there was some kind of party going on there. After listening to the announcers for a while we decided it was the Office of Multicultural Affairs having their annual kickoff. The cool part was that they had the Border Highlanders play. So sitting near the park watching my kids slide, I got to listen to "Scotland the Brave", "Scots Wa Hae", and all the favs from the bagpipers. It inspired me to get out my own pipes and start practicing again. I haven't had them out since we moved.
Forty-five minutes later we headed back downtown to pick up Hubby who was just done purchasing three books. All in all we added a dozen or so books to our library and had a wonderful Saturday morning.
Photo Credit