Last night we attended a Potluck/Going Away Party for a family from church. The impromptu gathering was quite well attended and a good time was had by all. My hubby, bless his heart, watched the kids on the playground so I could talk with the other moms sitting around long food-laden picnic tables. Since I had not talked to another adult since Tuesday (except Hubby), my extrovert-meter was sadly low. I chatted my heart out with other attention-starved moms while Hubby and the kids expended all their excess energy.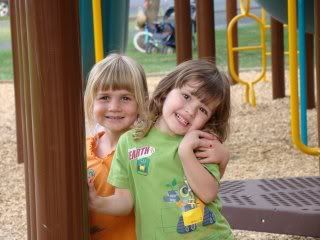 Curly, too, needed some extrovert-time so she played hard with all of her friends. This little gal is one of her best buds; she sees her every week at Small Group.
Daddy has put in quite a bit of time on the swings lately. He seems to really enjoy time with his son, the more so now that Little Mister is developing personality and language.
Saturday saw us up at Kamiak again. Here is my family eating lunch. Not only is Mommy the photographer, I am avoiding the bench because of the bees. I am slightly allergic and I hate, hate, hate bee stings. Hubby on the other hand is a bee-charmer (see
Fried Green Tomatoes
) so he and the kids don't seem to mind them.
I love this picture; I think I'll print it out and take it hiking. I am going to miss these guys SO much over the four-day trip.