There is a little household cleaning agent that I seldom use but always try to keep in my stock. Getting ready for the party I put it to good use on my antique sewing machine cabinet.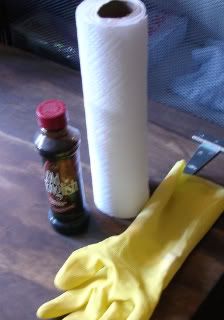 It's called Old English Dark Wood Furniture Polish. It contains wood stain along with the polish that covers scratches and discolorations like magic. I was shown this by a pastor long ago when I helped at her house and I have never forgotten the secret.
Here is the dilapidated condition of my antique sewing machine cabinet. Not only is the top terribly water-damaged, but there is a large scratch down the front of the right door. Although I would love to have the time and energy to refinish it properly, I decided I wanted a quick fix before our party. So I whipped out my Old English and went to work.
Now the blemishes don't stand out and shout at you. The finished parts are a glossy sheen. Although the picture makes the color look quite a bit darker, it is just the angle and the whole thing is actually the same color it was before, except the scratches and dings no longer show.
At some point I would like to get it totally refinished. But for now, I enjoy the facelift.