Today's events can only be described as miraculous. Some of the news will have to wait, but the part I am going to share is jaw-dropping to me. God is so good!
Almost since we bought this trailer nearly six years ago, we have been trying to re-sell it. We have posted ads, hung flyers, reduced our price... nada. So this spring, when we decided we were looking for a house, the idea of selling this place seemed impossible. I prayed that we would sell it before we moved. Actually I went out on a limb faith-wise and prayed that not only would it sell, but it would sell for a good price (more than $8,000) and it would sell soon so we would not have to worry but that we would not have to move until the semester ended. I didn't quite know how God would even do that but I laid my needs and wants on the table.
We did the usual posting classifieds, pictures, website, flyers... and waited.
Oh, I also sent an email to the church announcement list. Today a young man showed up at my doorstep who had seen that announcement via HIS church email. He liked the place so much he offered $9,000 for it and asked me if it was ok to wait to close until the end of May. I just about fainted. OKAY?!?!?!
Once he left I danced around the room (not literally, the babies were asleep) and thanked God from the bottom of my heart. Then I repented for not trusting Him more.
We are getting out of trailer-land for good. What an amazing feeling.
In farewell celebration, I have for you a lovely picture:
Redneck Condo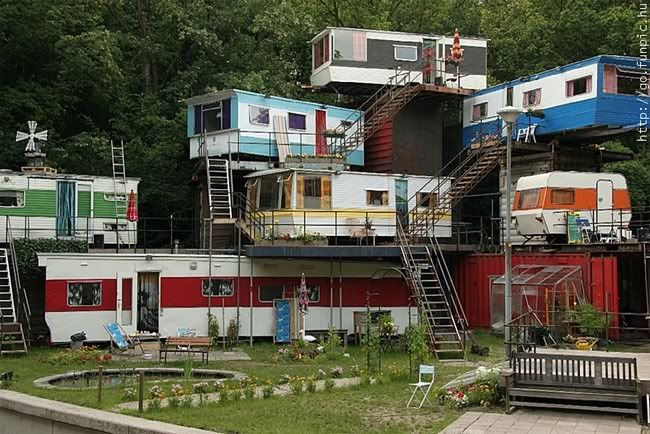 I'll miss this ol' place. NOT! :D