Yesterday as we foggily entered the living room upon awakening, we all discovered that it had snowed again. Excitedly, Natta asked if we could all go play in the snow. Fleeting thoughts of Seth's runny nose and my own nagging headache were quickly shoved aside and I assured her that, yes, of course we could go play in it. On the table a large plastic shopping bag held the fruits of Mama Terry's recent trip to Tri-State Outfitters in the form of snowpants, gloves and hats. She had also bought the kids little bitty snowboots so we had all the clothing we needed to go out and enjoy the snow.
Natta was first. Wrestling her into socks, snowpants, mittens, coat and hat took what seemed like half an hour but was in reality about five minutes. When I finished with her, she waddled rather than walked, reminiscent of the little brother in
A Christmas Story
. I opened the door for her and off she went, navigating the front steps and down into glistening white cold powder.
Next I tackled Seth. At the best of times, he whines when we put his coat on so it was with trepidation I approached him bearing snowpants and boots. To my relief he didn't complain and at last he was bundled within an inch of his life. I threw my own boots and a ski jacket over my pajamas and we hurried outside.
A stiff breeze ruffled my hair, making me envy my children in their fleece hats. I set Seth in the snow. Barely able to move in his thick clothing, he stood unaided for a full 30 seconds before he realized that it wasn't Mommy propping him up but his snowboots. Plopping down on his little rump, he began to cry.
I stood him up again and he squinted through the nippy air at his sister who was busily throwing snow into the air.
Holding Seth's hands we walked around the front yard, making footprints in the freshly fallen snow. I told Natta how to make a snow angel so she busily laid in a pristine patch of white and wriggled until she had made a passable angel. I set both kids together and snapped a quick picture, Seth begging to be lifted again.
Finally I sat on the front steps and held Sethie on my lap while Natta retrieved her sand truck and began hauling loads of snow around the yard. When she discovered that it did not run smoothly in the deeper snow, she drove it on the shoveled walk, pretending that it was the "road".
All too soon it was time to go back in the house. Reversing the dressing process took much less time and soon we were back down to normal clothes, with the snowpants and gloves stacked in dripping piles on a chair.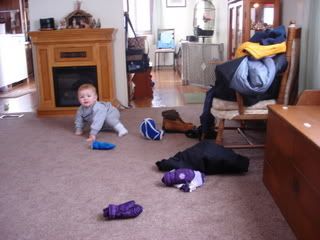 Sure that this was only one of many snow days, I smiled at the thought of my children in the months and years to come, building snowmen and snow forts, learning to ski and snowboard. To me, the snow has always been magical, a scenic transformation of breathtaking beauty. The roads and scraping of car windows seems a small price to pay for the glory of a glittering white countryside or the wonder of a child's first slide down an icy slope on a new Christmas sled. I sincerely hope that I do not become so jaded by life as to forget the magic of the snow. If today was any indication, my children will remind me if I ever forget!