Thursday, August 3, 2006
Our friends, E & k are getting married in a few weeks and my Hubby is to be Best Man. I have nothing to wear, however, being as I'm 6 months pregnant. So I plan to sew a maternity formal and design it myself.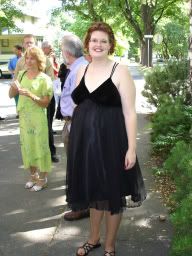 Edited: Here is a picture of the dress at their wedding. I love how it turned out!

Posted by

Erin J
at 2:16 PM
No comments:

Tuesday, August 1, 2006
This summer has been day after day of bed rest, trying to keep Curly out of too much trouble, and feeling really, really sick.
Posted by

Erin J
at 3:37 PM
No comments: